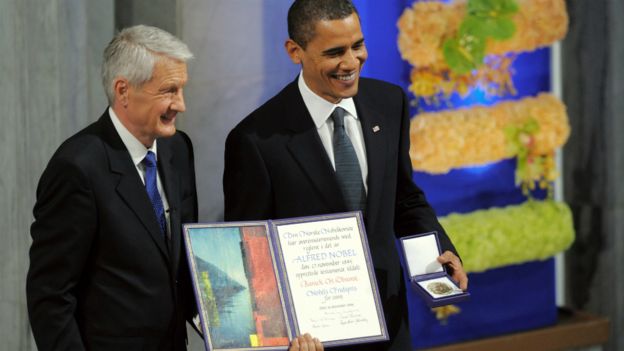 Photo courtesy BBC.com/news
Awarding President Obama the Nobel Peace Prize in 2009 was a grave mistake, the Nobel Committee Secretary admits now. The President had not accomplished anything at that time for world peace, so the prize was a euphoric rush to judgment following President Obama's historic election victory.
All the excitement and hope that President Obama brought to the Oval office dissipated over time as he continued most of President Bush's policies. That dreaded Guantanamo Bay prison (where over 400 innocent people were tortured then released without charge) is still open. Wars continue in Iraq & Afghanistan, But worse President Obama started war in Libya under the guise of no-fly zone and in gross violation of UN Charter. Libya is now a fractured country ruled by varying a different groups of terrorists.
Libya (Picture courtesy usatoday.com)
President Obama's biggest failure is war in Syria. In order to illegally remove President Asad (no doubt a dictator), Obama funded groups who turned out to be components of ISIS and various rag tag bunch of terrorists. The country has been fractured, hundreds of thousands have died, millions have become refugees, all for what?
The Nobel Committee MUST revoke President Obama's Nobel Peace Prize, instead of achieving peace, he has caused more war, more bloodshed, more loss of human life and more misery to millions of people. He is certainly not deserving of a Nobel Peace Prize.
State of Homs now ( picture courtesy NBC news)